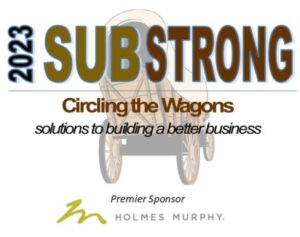 Visit www.SUBStrong.com
information and SUBStrong Library and Blog
The American Subcontractors Association of Colorado (ASAC) is pleased to announce that 2023 SUBStrong, Circling the Wagons a construction education series delivers solutions to the common challenges faced by the construction subcontractor business. Construction is in a constant state of change and solutions are changing as well.  2023 SUBStrong, Circling the Wagons, solutions to building a better business delivers tangible take-away's and solutions to help you build a better business.
2023 SUBStrong removes the barriers of attending by offering a hybrid event (in-person or virtual), selecting topics that are priorities of construction business owners, attendee friendly schedule and affordability.
Presenting sponsor of the 2023 SUBStrong is Holmes Murphy, hosted by Plante Moran and supporting sponsors Absolute Caulking & Waterproofing, CCIG and CRS Brokerage.
2023 SUBStrong Features
Attendance – hybrid event, hosted in person by Plante Moran and virtually via Teams.
Topics – Business Solutions, Health and Safety Solutions, and Workforce Solutions.
Time – 2023 SUBStrong is offered monthly September – November | 7:30 a.m. – noon

September 26, 2023 – Business Solutions
October 17, 2023 – Health and Safety Solutions
November 7, 2023 – Workforce Solutions

Schedule – 2023 includes opening keynote, followed by two education sessions and wraps up with a panel discussion of the feature topic.
Registration – members register for as little as $29 per day with company registration and sponsorships available.
Visit www.SUBStrong.com for information and registration.