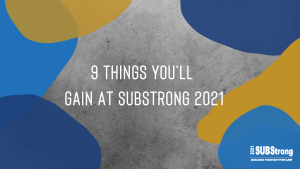 Welcome to SUBStrong 2021, Building Your Bottom Line!
You'll never believe how much we packed into this 3-day virtual conference, networking event and trade show. 
SUBStrong offers something for everyone: information, resources and solutions covering finance, business management, construction management, contracting and negotiation tips, employment law and HR, leadership, health and safety, business development, asset management and (phew, we're out of breath…) more. 
We'll be hosting webinars, workshops, roundtable discussions, daily lunch & learns, meetings, videos and a tradeshow. It's all here for you. We're delivering the resources and solutions you need to build your bottom line in the construction subcontractor business. 
"So, what will I get out of SUBStrong 2021?"  That's a great question, straight and to-the-point. That's what we like about you. And we're so glad you asked. 
Here are the top takeaways that you can expect from SUBStrong 2021.
1.  You'll learn first-hand what Contractors are looking for in Subcontractors 
This is a unique opportunity for your company to hear what the top Colorado Contractors are looking for in partnerships with Subcontractors. Representatives from JHL, GE Dunn, JE Johnson, Haselden and other Contractors will tell you exactly how they want YOU to do business development with them. That means they're giving you the keys to success with their business. 
2.  Network with intention
The virtual trade show allows you to connect and find key vendors that suit your needs, with no awkward interactions. How cool is that? Are you looking to digitize your firm and need software solutions? We've got you. Our vendor list includes just about any solution you might be seeking. This makes it easy to beeline to the folks you want to talk to, save time and network with intention. You'll also have the opportunity to network with speakers, sponsors and colleagues. You can ask these key people questions and get to know who's who in the industry.
3. Solutions for Health and Safety
We'll talk about safety budgeting, work comp rates, EMR/DART rates for bidding legitimacy, auto rates, dividends for high performing programs, safety training and operator training options, owned equipment maintenance and so much more!
You'll take away objectives and resources that are new, innovative and easily integrated into an existing health and safety program. Worker health and wellness leads to employee retention and lowered training costs. Safety and wellness are crucial for your company, your employees and your bottom line. 
4.  Improve your EMR rates
Along with all our health and safety solutions, we'll also focus on the direct correlation between budget and safety. Budget dictates whether you have the right gear, safety systems and education for your team. Better safety ratings help your firm win more work, retain your workforce and help you attract better talent (because they know you take safety seriously!).

5.  Improve your contracts so you STOP losing money
It's impossible to know everything that may come up on a remodel project, especially when you've never walked the jobsite and you are bidding based on as-built drawings that may be a little less than accurate. This is just one example, shall we go one?
We're here to help you tighten up the loose ends and gray arrays in your contracts so you stop losing money on change orders and things that are out of your control.

6. Leadership development
Leadership in our industry matters, that's why we are focusing our Leadership Workshops on delivering the skill set needed in becoming a leader. You'll discover what type of leader you are, how to influence and support up and coming leaders and discuss the virtues and characteristics of leadership. You'll gain insight into leadership styles and opportunities for personal and professional development. 
7. Business development 
We'll deliver the 'doingness' of business development for new business and maintaining current business relationships. You can expect deliverables to include a list of business development activities and the tools and resources to put into action the business development goals and objectives of your company.
8. Total control of your bottom line 
We're hosting a 3-part series geared to you and building your bottom line. You will learn how to avoid the pitfalls that lead to needless waste and spending on a job site. You'll learn how to make the bottom line and the numbers add up in your favor. We'll break down how the bottom line factors into every aspect of your business. 
9. Fun and games
We had to add this one in there because you know what they say about all work and no play…
At our premier virtual networking event you'll meet the construction industry's premier mixologist and learn to make show-stopping cocktails at home! Meet and mingle, plenty of giveaways and much more. Yes, fun and games you won't want to miss!
So, bottom line, are you in? This is an opportunity for you to learn, grow, earn more work and save more money. 
Tickets start at $79. 
Join us as we build the bottom line of the construction subcontractor business.
 Meet thinkers and doers at daily roundtable discussions and workshops. Deep dive into business development, construction management, finances and health and safety. 
Learn from seasoned experts in the field. Network with intention. All from the comfort of your computer, phone or tablet! 
VIP tickets for only $99.
We'll see you there!